Please enter search criteria
Green Bay Pick Up
Green Bay Pick Up
Now Offering "Green Bay Pick Up" for NWTC Bookstore Orders
As we look at ways to reduce the spread of the COVID-19 virus, the NWTC Bookstore is announcing a way to help you get the course materials and required supplies.
Important "Green Bay Pick Up" Information
Your order will be held for 5 days from the packing date and if is not picked up, your order will be canceled/refunded.
"Green Bay Pickup" is available from Monday - Friday | 9am - 4pm – if that does not work with your schedule, please choose to ship to your home.
Available Monday - Friday 9 am - 4pm!
"Green Bay Pick Up" is available Monday - Friday 9 am to 4pm. Pick up will outside the NWTC Bookstore (SC145) located inside the Student Center (first floor). Use #9 Entrance in the Student Center Building. (Please see map below for details). Look for the sign marked "Bookstore Green Bay Pickup."
If these times do not fit your schedule, please email [email protected] to make arrangements for shipping.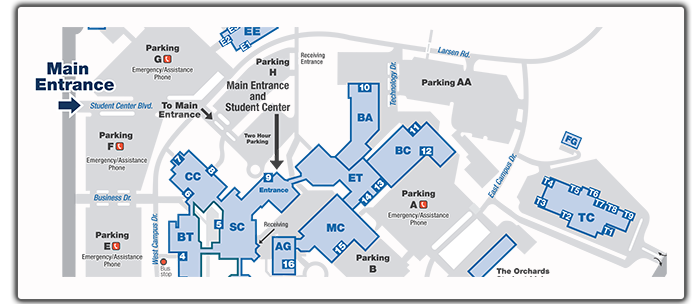 How Green Bay Pick Up Works
Place your order on our website and select "Green Bay Pick Up" option

Wait for the email to arrive informing you that your order is ready to pick up.

When you arrive to the student center - 2 hour parking lot -, please call 920-272-9204 with your order number and name.
Walk into the Student Center building and follow the signs to the NWTC Bookstore (SC145).